Premier Evaporative Precoolers
CARRIER 125 TON CONDENSING UNIT
THIS IS A TYPICAL ARRANGEMENT FOR A 125 TON CARRIER AIR COOLED CONDENSING UNIT WHICH IS LOCATED IN A DEATH VALLEY RESORT. THIS UNIT DOES NOT MEET DEMAND DURING EXTREME TEMPERATURES WHICH IS COMMON FOR THE AREA. INSTALLING PRECOOLING IS A GOOD WAY TO OFFSET THIS LOSS IN OUTPUT.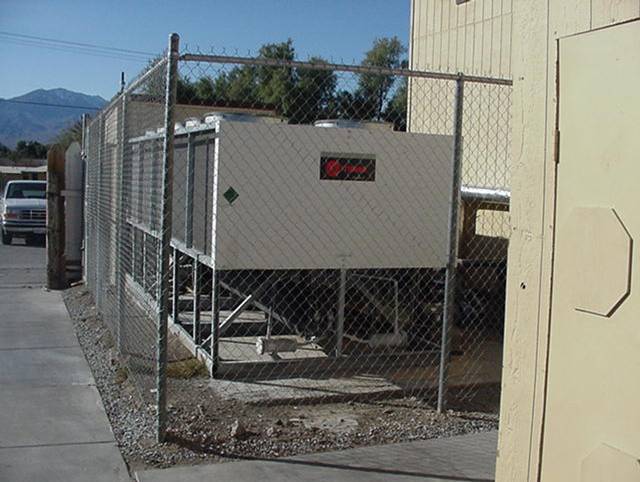 n
BELOW IS ANOTHER VIEW OF THE CONDENSER UNIT.
NOTE THE LIMITED SPACE FOR THE PRECOOLER.
PRIMARY CONSIDERATION IS HOW BEST TO DESIGN THE CONFIGURATION OF THE PRECOOLER TO FIT IN THE ALLOWABLE SPACE.
n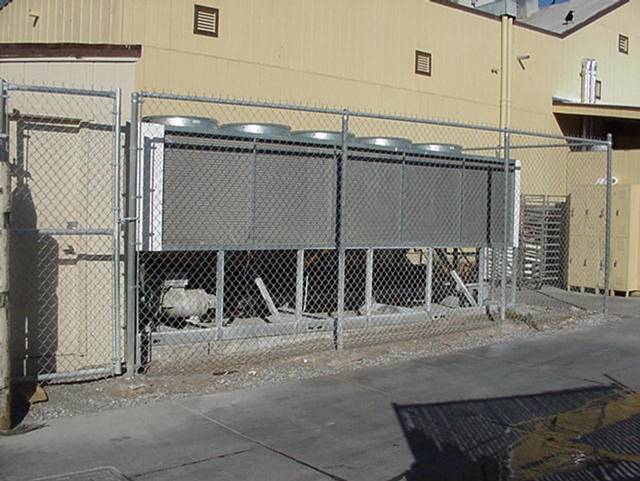 THE BELOW VIEW OF THE PIPING ILLUSTRATES THE NEED FOR CONSIDERATION OF OBSTRUCTIONS AND OTHER DESIGN FACTORS, SUCH AS ACCESS FOR MAINTENANCE, ETC., ON THE PRECOOLER INSTALLATION.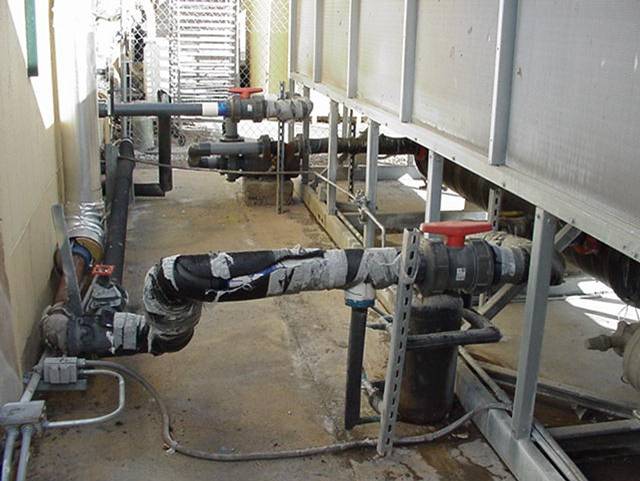 THIS IS ONE OF THE PRECOOLERS INSTALLED IN THIS APPLICATION. NOTE THE PLACEMENT OF THE PRECOOLER. BIRDSCREEN WAS PROVIDED TO PROTECT THE MEDIA FROM DAMAGE AND BIRDS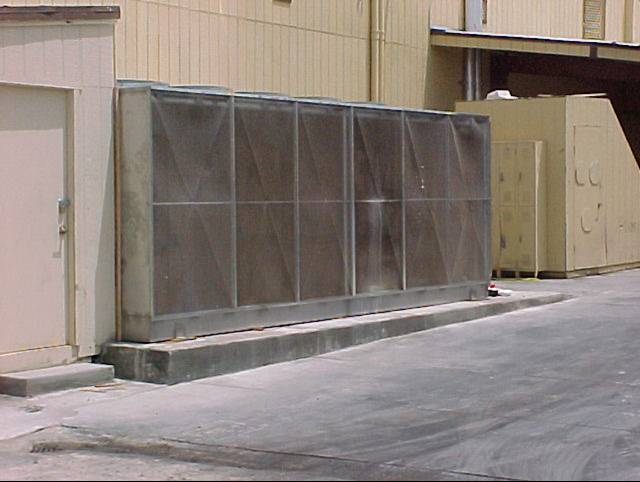 n
THE VIEW BELOW ILLUSTRATES THE COMPLETED PRE-COOLER INSTALLATION EXCEPT FOR THE ACCESS DOOR.
THE PRECOOLERS USE STAINLESS STEEL HOUSINGS AND 8" THICK RIGID COOLING MEDIA.
8" COOLING MEDIA WAS USED DUE TO LOW PRESSURE DROP AND HIGH COOLING EFFICIENCY.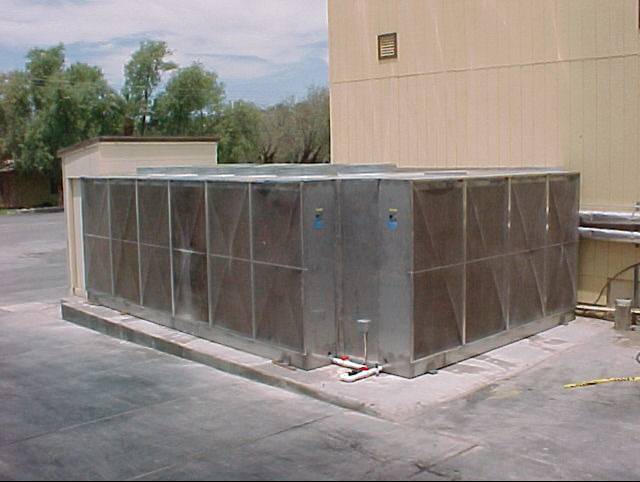 THIS FINAL VIEW OF THIS APPLICATION SHOWS THE ACCESS DOOR AND ENCLOSURE PANEL USED TO SEAL OFF ANY AIR FLOW AROUND THE PRECOOLERS. ENCLOSURE PANELS WERE ALSO USED BETWEEN THE TOP OF THE UNIT AND THE STRUCTURE OVER THE PIPING.